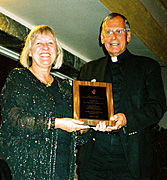 Antonija Petrulis, representing AZ LAC board, presents an award to Rev. R. Roide, S.J., Pastor of St. Francis Xavier Parish in Phoenix, Arizona, in recognition of his contributions to a Jesuit school in Lithuania.
The Honorable Stephen Mull, U.S. ambassador to Lithuania, the main speaker at the banquet.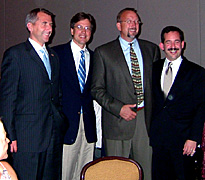 Ambassador Vygaudas Usackas, Andrius Anuzis of Brighton, MI, Saulius Anuzis of Lansing, MI, and Ambassador Stephen Mull.