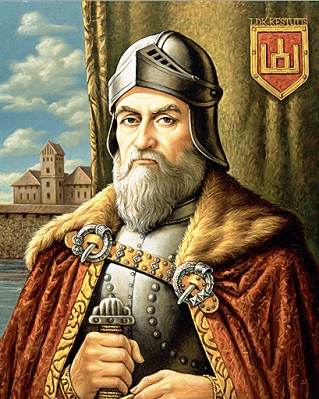 "Grand Duke Kęstutis"
photo from ugdome.lt website
Kęstutis was the second son of Grand Duke Gediminas of Lithuania and his second wife Olga, the daughter of Prince Vsevolod of Smolensk. He was born in 1297 in Kernavė. As soon as he was old enough, his father designated him the Duke of the nearby Trakai and assigned to him Lithuanian lands bordering the Prussian and Livonian territories ruled by the Teutonic Knights, a German order of warrior-monks. Kęstutis spent His whole adult life defending Lithuania from attacks by the Teutonic Knights, who were supported by crusaders and money of the Catholic powers of Europe.
Kestutis is known to have had two wives. The name of the first wife is not known. It is believed that with this first wife Kęstutis had three sons: Patirgas, Butautas, and Vaidotas. After his first wife's death, while hunting in western Samogitia, Kęstutis met his second wife Birutė, a maiden dedicated to guarding the eternal flame in a pagan sanctuary on a hill near today's town of Palanga. Both Kęstutis and Birutė remained faithful to the ancient customs and the pagan religion of their Lithuanian ancestors. They had three sons: Vytautas, Tautvila, and Zigmantas; and four daughters: Miklausa, Danuta, and Ringailė, and one whose name is not known. Their son Vytautas earned the appelation "The Great" as an important ruler in east-central Europe.
After the death of his father Gediminas in 1341, Kęstutis helped his older brother Algirdas rule Lithuania. It was an extraordinary example of close cooperation of two ruling brothers that lasted until Algirdas' death in 1377. Even after Algirdas' death, Kęstutis honored his promise to his brother to accept Algirdas' son Jogaila as his successor and as the Grand Duke and ruler of Lithuania. But the joint rule of Jogaila and Kęstutis did not last. Lithuania's enemy, the Teutonic Knights, managed to sow the seeds of distrust and provoke a confrontation between the aging Kęstutis and his young and inexperienced nephew Jogaila in 1382. To prevent the certain bloodshed of two Lithuanian armies in battle against each other, Jogaila invited Kęstutis to discuss a truce. When the two sides failed to reach an agreement, Jogaila detained Kęstutis by force and confined him in a tower at Krevo castle, where a few days later he was killed by servants sent from Vilnius, possibly on orders of Jogaila's mother Uliana. Although Jogaila's personal involvement in the killing of Kęstutis is not clear, in a later communication Vytautas blamed his cousins Jogaila and Skirgaila for his father's death.
Thus in the summer of 1382 ended the life of Kęstutis, a valiant defender of Lithuania, respected even by his enemies for his bravery and chivalry in warfare. Kęstutis was 85 years old. (Click here to read more history.)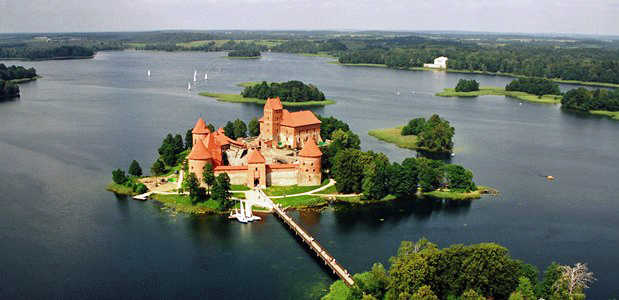 Trakai castle