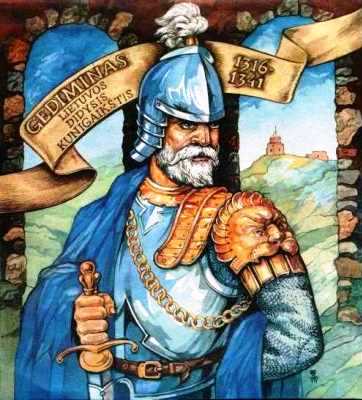 "Grand Duke Gediminas of Lithuania"
1989 drawing by R. Bilinskas
Family
After the death of Grand Duke Vytenis in 1316, his brother Gediminas rose to power as the new ruler of Lithuania. Gediminas was the son of Duke Pukuveras-Butvydas of Kernavė and was born around 1275. It is believed that Gediminas had four brothers - Vytenis the oldest, Vainys (or Vainius), third brother Lith.N.N. (Lithuanian name unknown) (baptised Theodore), and Margiris. Vainys ruled in Polotsk, Theodore went to rule in Kiev with Gediminas' help in 1325, and Margiris ruled in Lithuania.
Gediminas had a large family. By his three wives he had seven sons and at least five known daughters. His first wife Vida was the daughter of Duke Vidmantas of Couronia. Vida had two sons, Manvydas and Narimantas (baptised Gleb), and died soon after Narimantas' birth in early 1290s. Gediminas' second wife was Olga, daughter of Prince Vsevolod Mstislavich of Smolensk. Olga had two sons: Algirdas in 1296 and Kęstutis in 1297. Gediminas' third wife was Eva, daughter of Prince Ivan Vsevolodich of Polotsk, brother of second wife Olga. Eva had three sons: Liubartas (baptised Dmitry) in 1299, Karijotas (baptised Mikhail) in 1301, and Jaunutis (baptised Ivan) in 1306; and daughters Damilė (baptised Elizabeth) in ca. 1302, daughter Lith.N.N. (baptised Maria) in ca. 1304, and Aldona (baptised Anna) in ca. 1310, daughters' Lith.N.N. (baptised Euphemia) born ca. 1316, Aigustė (baptised Anastasia) in ca. 1318. Except for their marriages, very little is known about Gediminas' daughters.

Religion
It is notable that all of Gediminas' children, even those born to Orthodox Christian wifes Olga and Eva were given non-Christian Lithuanian names, confirming that Gediminas remained faithful to the old Lithuanian pagan religion. Except for Algirdas and Kestutis, his children were baptised later, just before their marriages to Christian spouses.
Being married to two Christian women in a row, Gediminas was not unfamiliar with Christianity, but like most of his Lithuanian subjects he loved the religion of his ancestors, a religion that venerated the forces and the life-sustaining bounty of the natural world, a religion where people felt a kinship to all living things and worshipped in the open air: in sacred oak groves, by sacred streams and pools of water, and on top of sacred hills.
On February 3, 1317, Pope John XXII wrote a letter to Gediminas urging him to convert to Catholicism. While this letter did not produce any immediate results, Gediminas wrote to the Pope with his own proposals some years later in 1323 (see below).
With a sizeable Orthodox Christian population within the territories ruled by Gediminas and Vytenis before him, both brothers found it intolerable that their Orthodox subjects were under the religious jurisdiction of the metropolitan of Moscow and worked to establish a metropolitanate of Lithuania in Naugardukas (Novgorodok), the seat of grand ducal power before 1323.Their efforts must have had some success, because records show that in August of 1317 the Metropolitan of Lithuania was one Cyril of Monemvasia. The metropolitan of Moscow, however, was very much opposed to the Lithuanian metropolitanate and succeeded in having it abolished in 1328. Had the metropolitanate of Lithuania continued in existance, it is likely that Lithuanians would have converted to Orthodox Christianity.

Leadership
Gediminas was not as great a warior as his older brother Vytenis and rarely led Lithuanian forces into battle. He preferred diplomatic means for achieving his goals. In the early years of his rule, for leadership in warfare he relied on Duke David of Gardinas (Grodno), who is believed to have been the son of Duke Daumantas of Pskov, one of the participants in the murder of King Mindaugas and two of his sons.

Vilnius: the new capital
In 1323, possibly because of security concerns, Gediminas relocated to reside in a fortress in Vilnius and as a consequence Vilnius became the new capital of Lithuania. A nearby Franciscan convent provided the much needed secretaries, scribes and interpreters for Gediminas' court. To serve the spiritual needs of the foreign tradesmen and merchants who lived nearby, Roman Catholic and Orthodox churches were constructed.

Alliances
Gediminas, like Vytenis before him, maintained an alliance with the Archbishop and the citizens of Riga in Livonia. Through them in 1323 he sent letters to the Pope and the people of western Europe explaining that the Teutonic Knights were hindering the conversion of Lithuanians to Christianity by their incessant destructive attacks on Lithuania and inviting clergymen, craftsmen and tradesmen to come and settle in Lithuania.
Much of Gediminas' strength and influence derived from the marriages of his many children to members of ruling families of neighboring lands. Rusian princes under the harsh yoke of the Tatar Khan of the Golden Horde and Polish rulers under attack by the Teutonic Knights were especially receptive to alliances with Gediminas.
By 1316 Damilė-Elizabeth was married to Duke Waclaw of Plock in Mazovia. She died in 1364.
In 1318 Algirdas married Maria, the daughter and only child of Prince Mikhail Konstantinovich of Vitebsk and after Mikhail's death in 1320, Algirdas inherited the princely right to Vitebsk, an important trade and mercantile center on a branch of the Daugava (Dvina) River, and ruled there as Gediminas' vassal.
In 1320 Liubartas-Dmitry married Bucha, the heiress of Prince Andrei Yurevich of Volhynia, and went to rule a part of her father's domain in Lutsk in northwestern Ukraine. A major tourist attraction in Lutsk today is a remnant of a medieval castle called Lubart's Tower.
In 1320 Maria married Dmitry, the son of Prince Mikhail of Tver.In 1326 Dmitry was killed by Tatar Khan Uzbek, Dmitry's younger brother Aleksander became the Prince of Tver, and Maria spent the rest of her life in a local Tver convent.
In 1325 Gediminas reached a defense agreement with Poland's king Wladyslaw (Ladislas) Lokietek against the Teutonic Knights. The alliance was strengthened by the marriage of Gediminas' daughter Aldona-Anna with Wladyslaw's son, the future king of Poland Casimir the Great, on October 16, 1325. As a dowry Gediminas freed all the Polish captives held in Lithuania, numbering in the thousands.
In 1331, Euphemia married Prince Boleslaw-Yury II of Galich.
In Nov. or Dec. of 1333, Aigustė-Anastasia married Grand Prince Simeon of Moscow. She died in 1345 and is buried in a monastic church that she sponsored inside the Kremlin walls.

Lithuanian State
Lithuanian state under Gediminas with its capital in Vilnius was not centralized. It consisted of regions, each governed by a regional ruler who recognized Gediminas' supremacy and was usually related to him. The main enemies of Lithuania were the Teutonic Knights in the west and north and Tatars of the Golden Horde in the east and south.

War with Teutonic Knights
Lithuanian devotion to their ancestral religion was perceived to be a mortal danger to the salvation of Christians by the Roman Catholic Church. Because of this paranoid obsession, Lithuania faced a war of attrition waged against it by German warrior-monks belonging to the Order of Teutonic Knights, who had arrived in the Baltic area in 1230 and with the aid and support of the Pope, the Holy Roman Emperor, and the military might of western Europe were now rulers of Prussia to the west and Livonia to the north. This unending warfare with the Teutonic Knights drained the human and economic strength of Lithuania.
During the first four years of Gediminas rule, peace was interrupted only by small-scale looting raids by Teutonic Knights and their allies. A larger attack came in July of 1320, when a force consisting of forty Teutonic Knights and a large Prussian militia, led by the Marshal of Prussia, penetrated deep into Lithuania past Vilnius ravaging the countryside and taking prisoners. On the way back to Prussia through the Samogitian region of Lithuania they were ambushed by Samogitians. Twenty nine Knights and the Marshal perished after the Prussian militia scattered into a nearby forest and left the Knights exposed and vulnerable.
For major assaults the Teutonic Knights needed the help of armies from abroad, such as the one that arrived in the winter of 1322. Winters, when all the bodies of water were frozen, was the easiest time for armies to move. In February of 1322, a large number of crusaders, including knights from Bohemia, Silesia, Rhineland, Swabia, and knights and militia of Culm, a force that one chronicler estimated at twenty thousand fighters, arrived at Königsberg in Prussia and guided by Teutonic Knights attacked the southern Samogitian region of Lithuania, destroying many hillforts and villages.
This time Gediminas repaid in kind by invading territories ruled by the Teutonic Knights and by Danes in northern Livonia (today's Estonia) and returning with about five thousand captives.
After their alliance of 1325, King Wladyslaw of Poland urged Gediminas to launch a joint attack on Brandenburg, an ally of the Teutonic Knights. In response Duke David of Gardinas brought a force of about 2000 knights and devastated a wide region of Brandenburg and returned to Lithuania with much booty and many captives. To get to Brandenburg David's armed force had to pass through the Polish region of Mazovia, where it did much damage. In revenge for Mazovian losses, a Polish knight murdered Duke David in 1326.
In late February of 1336, a large crusader army consisting of Austrian, French, and German contingents and numbering about 6,000 fighters, guided by a force of Teutonic Knights, invaded Lithuanian territory from Prussia with the goal of destroying the Pilėnai hillfort, a key part of the Lithuanian defensive line of forts along the Nemunas River. The fort was filled with local residents seeking shelter for their families along with Lithuanian defenders commanded by Gediminas' brother Margiris.
Burning and killing as it went, the crusader army reached Pilėnai, surrounded the hillfort and commenced bombardment to breach the defensive walls. When the defensive walls started to collapse and the fall of the fort became certain, to deny the crusaders booty and prisoners, choosing death over a life of slavery, the defenders lit a large bonfire, burned all their valuable possessions, killed all their women and children and then killed themselves. Gaining the inside of the fort, the crusaders were shocked and disappointed to find only the charred remains of bodies and goods and had to return to Prussia empty-handed.
in 1337, King John of Bohemia and Duke Henry of Bavaria came to Prussia with forces from Bohemia, Silesia, Bavaria, the Palatinate, Thuringia, the Rhineland, Holland, and even Burgundy. The Teutonic Knights came with the militias of Nattangia and Sambia. Because of the unusually warm weather, boats were used to transport the army and building materials up the Nemunas (Memel) River. After destroying two Lithuanian hillforts, the army built a fortress on the northern bank of the river and called it Bayerburg ("Bavaria City") opposite the ruins of the German Christmemel fortress, which was destroyed by an earthquake or an earthslide and fire in 1327.
Gediminas understood the strategic importance of the Bayerburg fortress as a staging site for attacks deeper into Lithuania. He sent an army which besieged Bayerburg for twenty two days in June, but the siege did not succeed in capturing the fortress.
Holy Roman Emperor Louis IV (Ludwig of Bavaria) had a grandiose plan for the Teutonic Knights. On November 15 of 1337, he issued a bull donating the whole of Lithuania to the Teutonic Knights. The Knights already ruled Prussia and Livonia. Addition of Lithuania to their possessions would give them a state that could dominate northeastern Europe. The new Bayerburg fortress was to be the nucleus for a future capital city of his large new state. There was, however, one small detail that had to be addressed first: the Teutonic Knights had to defeat a unified Lithuania.

Wars with Rusia & Tatars
After the defeat of the Teutonic Knights in July of 1320, Gediminas campaigned against their allies in the south in the winter of 1322/1323. After the capture of a number of towns in the Brest-Litovsk region, a battle took place at Irpen River next to Belgorod, where Prince Stanislav of Kiev was defeated, but escaped to Bryansk. Gediminas captured Belgorod and after a montth's siege - Kiev itself, along with a number of surounding towns. In the captured cities Gediminas left Lithuanian military commandants and returned to Lithuania.
After their defeat by Genghis Khan in the 1200s, Rusian princes became vassals of the Tatar Khan of the Golden Horde. Lithuanian interventions in the Rusian lands brought them into frequent conflicts with the Tatars.

Gediminas' Death and Testament
Gediminas died ca. 1341 of unknown causes, leaving the rule of the Grand Duchy of Lithuania distributed among his seven sons to rule as vassals of the Grand Duke in Vilnius: Manvydas ruled Kernavė and Slonim; Narimantas ruled Turov and Pinsk; Karijotas ruled Novgorodok and Volkovysk; Algirdas ruled Krevo and Vitebsk; Kęstutis ruled Trakai, Gardinas (Grodno) and Brasta (Brest Litovsk), Podlachia, and Samogitia; Liubartas ruled Volhynia with Lutsk; Jaunutis, the youngest son, lived in Vilnius with his father and became its ruler at his father's death. The right to rule came with responsibility for defense: Jaunutis for defense against Livonia; Algirdas - against north and east Rusia; Kestutis - against Prussia and Masovia; Karijotas and Narimantas - against southern Rusia and the Tatars; Liubartas - against Poland. (Click here to read more history.)


remains of Gediminas' upper castle in Vilnius