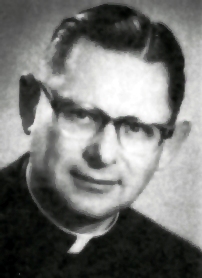 Antanas Valiuška was born on December 20, 1915 in Laumaičiai village, Mosėdis district, Lithuania. After finishing 6 years of high school in Skuodas, in 1934 he passed the entrance exam to the second year level coursework at the Telšiai priesthood seminary. While there he joined a study group of the Samogitian dialect of the Lithuanian language and became the editor of "Vita Nova", the seminary's newsletter.
Valiuška graduated from the seminary in 1940 and on May 23 he was ordained priest by Bishop Justinas Staugaitis and assigned to the parish of his birth. After 3 years as a parish priest, he was assigned chaplain at the Vytautas the Great High School.
As the Soviet army started to occupy Lithuania from the east, Rev. Valiuška moved west to Germany. After the war he moved to Heidelberg, where he provided pastoral services to Lithuanian students and worked with the Red Cross. In 1949 he became the chaplain for Lithuanians in Butzbach and Bad Nauheim.
At the invitation of Cardinal Luis Copello of Buenos Aires, Rev. Valiuška moved to Argentina in 1949, where he became a vicar at the St. Lucia parish in Buenos Aires. After a year Valiuška moved to the Cordova Province.
In 1953 Valiuška moved to the U.S. and worked in Seattle and Portland. In 1960 Valiuška was assigned as vicar at the St. Casimir Lithuanian parish in Los Angeles, where he worked with Lithuanian organizations and in the Lithuanian school. After 7.5 years of intense work, Valiuška's health started to weaken and he took a vacation. Later he helped Rev. J. Juodeika in Demming, New Mexico, and for a time was the chaplain at the Sul Ross University in Alpine, Texas. In 1968 he was assigned as the chaplain at the Lithuanian Mission in Phoenix, Arizona.
In 1978 Valiuška published a book in Lithuanian about the first 10 years of Lithuanian Mission in Arizona: Lietuvių Misijos Dešimtmetis Arizonoje Printing was done by Franciscan Press, 341 Highland Blvd., Brooklyn, N.Y. 11207.
When his health started to fail again, Valiuška moved to live in Vista, California.
After Lithuania became independent in 1991, Valiuška returned to Lithuania. With his own money he built a parsonage at a small church near Šventoji. Valiuška felt happy here and here he ended his days.