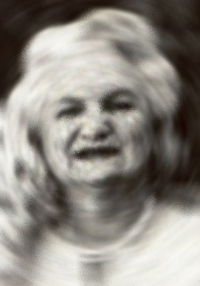 Ona Metrikis nee Skyrius was born in Chicago. She started studying music at an early age by attending piano and organ classes at Prof. A. Pocius Conservatory. Later, she entered an American music conservatory to study music theory and accompaniment of soloists and choirs. For five years she worked with Lala Fletcher, a voice teacher for opera singers. Ona became the accompanist for soloists Elena Rakauskas and Akvile Ancha. In 1935 she became the accompanist for Rapolas Juška. For 11 years Ona was the organist at the Slovak St. Joseph Church in Chicago. Moving to Los Angeles she continued her studies in music composition under the famous Dr. Franc Darvasz and church music under Tagliavini, director of Vatican music at Immaculate Heart College. She studied organ playing under the famous American musician and composer Richard Keys Biggs. Later she was his assistant at the Blessed Sacrament Church in Los Angeles. In this church a mixed chior sang Ona's composition, The Seventeenth Psalm. She has composed more church hymns. In Her really creative time in music composition started in 1960. She has composed about thirty Lithuanian songs for soloists, duets and chiors. She brought new variations to her compositions, e.g. a soloist and flute duet "Gegutė" ("Cuckoo"), "Malda" ("Prayer"), accompanied by violin.
While residing in Los Angeles, Ona organized a women's septet Sutartinė (In Harmony), which sparked the beginning for the singing ensemble Vakarų Aidai (Western Echoes). The ensemble was an active participant in the Lithuanian cultural scene in Los Angeles. Along with many other songs it performed Ona's composition "Kartą gintaro pakrantėje" ("Once upon a time at the amber shore") with great success.
Antanas and Ona Metrikis moved to Phoenix from Los Angeles in the spring of 1971, after the strong earthquake in Los Angeles. In Phoenix she took charge of the Lithuanian choir. She was able to attract both first and second generations of Lithuanian Americans to the choir. The choir sang during Lithuanian church services on Sundays and at various other events. Every year she prepared the choir to give a splendid performance at the Lithuanian Independence commemorations. She also provided accompaniment on piano for the various soloists who were invited to Lithuanian events. She did all this work pro bono, not asking for any compensation.
Wanting to live closer to her daughter, Ona returned to live to Los Angeles in 1975.